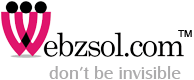 webzsol.com
was formed in 2002 in Mumbai-India, however our designs reach a global marketplace.
Webzsol.com
is a
website designing
,
website development
,
internet marketing & multimedia solutions company
. We provide a full suite of services that will function together to give your company a competitive advantage. Our
web design
,
and
services have added value to our client's business services. We are an award winning
web designing company in mumbai
, and specialise in
,
,
,
corporate web design
,
graphic designing
,
,
,
SEM
,
, and
multimedia solutions
for corporates as well as start ups.
Like Us
On Facebook
Read Our
Blog
10 websites mistakes that can affect seo
For a website to look and perform at its best, it must have state-of-the-art visual and architectural design. This lends a contemporary look to the website and makes it appealing enough for the user to browse through.... more...
How to increase your website's visibility
The primary objective of every business and personal website is to reach out to as many potential customers as possible, in order to drive conversions and impact sales....
more...