Top Online Marketing Trends Dominating 2014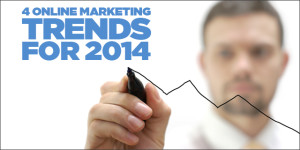 Marketing trends tend to change with the times as businesses try to ensure that their products stay visible to the widest array of consumers. This 2014, there are some expected changes in marketing tends that are expected to impact businesses in years to come.
The Ecosystem of Devices
Mobile devices are making a major impact in how the world communicates and accesses the web in their daily activities. This is an impact that is expected to continue in the foreseeable future. The forecast is that by 2020, there will be about 24 billion devices connected worldwide. Even now, wrist band devices that communicate with smartphones are beginning to make their presence felt.
These connected devices are an opportunity for businesses to market their products better by establishing tie in their services and products with pertinent moments their consumers are experiencing throughout their daily activities with their various devices. Marketers will be able to better promote products by using their relevancy to the consumer's feelings or actions at a given time using the connected devices and providing more focused messages from the business. This makes the messages more in line with the consumer's interests which will increase likelihood for action.
Content Marketing Rules
A major part of the role of marketers is storytelling and that is expected to remain. As a matter of fact, it is expected to become more important to the success of a product. As the web becomes more social based, communication with consumers becomes a must. It is no longer enough to simply issue press releases or to make use of billboards for selling services and products.
Content that contains more images to break up text will become more important as it allows people to digest content more quickly. Image-based content attracts more and more audiences. Successful blog posts will be those that incorporate images that are well-placed to emphasize points. Infographics are expected to gain more ground as they combine minimal text with images to drive a point, tell a story, explain a topic, or to provide statistical data or information from studies or research.
Simple Mobile Apps Grow
More than ever, it has become obvious that there is a growing trend in the use of simple mobile apps across many generations of web users. Apps succeed when they allow users to communicate with others while they are on the move and are using simple yet unique format. Many businesses can integrate with such apps and establish a foothold as a lot of mobile apps are still new.
Social Advertising Rise
Paid social advertising places ads of products and services in front of the social platform's audience in their feed where users are interacting with their friends. This puts products and services in front of the target audience that is more likely interested in the ads.