Full Services Website Content Writing Services, Website Content Writing Company in Mumbai, Seo, PPC & Corporate identity
Copywriting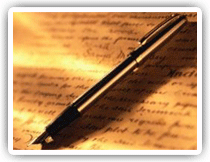 We are leading website content writing company in Mumbai offering website content writing services with expert's staff specially trained in writing for the content where information must be succinct, precise, and engaging, as well as being content/keyword rich for search engine optimization.
Our copywriting services include :
Writing and editing website copy
We write and edit website copy with a view to driving conversions, gaining rankings within the search engines, and driving key brand messages to your website visitors. Our SEO copywriting services form a fundamental part of our content optimisation and link building strategies.
Auditing and improving existing websites
We can carry out a thorough copy audit of your website looking at how tone of voice, content structure, key conversion points, and how brand values are being presented. We can carry out our audit and resolve the problems directly, or carry out the audit and advise where your team can make enhancements. The effects of a thorough copy audit can be as beneficial to a website as a redesign and usability study.
Enhancing copy for email communications
We have a wealth of experience in email marketing, both from a consumer and corporate perspective. Ensuring your email communications contain targeted content, targeted descriptions, and enriching content, this will enable you to achieve effective email marketing campaigns with higher click through rates and conversions.