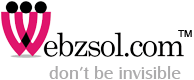 Full Services Web Development And Internet Marketing Company Web Design, Seo, PPC & Corporate identity

Designing a website is defined as the arrangement and creation of Web pages that in turn make up a website. But we at webzsol.com, a
professional web designing company
define designing a website as helping you in opening up an online branch office of your company. Having a web presence allows you to be available for 24 hours a day, 7 days a week, 365 days a year.

Internet presence has become almost a necessity for businesses today. However, the impression your web site leaves with web site visitors and potential customers is very important and therefore, a professional and easy to navigate web site is well worth the investment. Don't settle for a cheap web site, i.e. Don't Make Price Your Only Priority.

Ecommerce Website Design and Development
E-Commerce enabled website provides the most cost-effective way of promoting your business online.
E-commerce websites
are specialized web applications that allow commerce to be transacted electronically over the Internet without the need for a "brick and mortar" retail outlet.

A typical E-Commerce solution includes a website with a data backend, a shopping cart, a payment gateway tied to a merchant account.

CMS (Content Management System)
Website content consists of written text, pictures, photo galleries and graphics, audio and video clippings. In the present competitive business environment, interactive website is a necessity for success of the online business. It is important to hire a
professional CMS website development company
so that you have robust and versatile
Content Management System (CMS)
, which gives you the liberty to manage the content of your website at your will and customize it perfectly to suit the needs of end users.

Having looked at many
CMS websites
on the open market, you need to be an IT developer to work out how to us them! We provide our clients with a CMS that will not only have all the features and functionality they will need, but a system that is easy to use!


The modern business is Internet driven and if you want to expand your business horizons it is necessary to have a
professionally developed website
or web portal that vividly reflects your business. webzsol.com is a
professional web portal development company
, which provides comprehensive portal development services.

We have proficient web
portal development teams
who are experts in use of different web application development platforms
PHP,ASP.NET,
etc. The highly competitive atmosphere on the net, changing consumer demands and availability of latest
web development technology
drives our talented developers to create ingenious
web solutions
for your business so it gets the necessary leverage to leapfrog over rival businesses.


Our expert
website copywriters
are specially trained in writing for the web where information must be succinct, precise, and engaging, as well as being content/keyword rich for
search engine optimisation.