Full Services Web Development And Internet Marketing Company Web Design, Seo, PPC & Corporate identity
Search Engine Optimization or "SEO"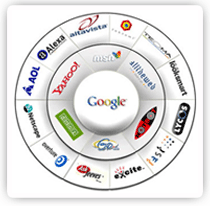 "SEO" is the process of improving the visibility of a website or a web page in search engines via the "natural" or un-paid ("organic" or "algorithmic") search results. As an Internet marketing strategy, SEO considers how search engines work and what people search for. Optimizing a website may involve editing its content and HTML and associated coding to both increase its relevance to specific keywords and to remove barriers to the indexing activities of search engines. Promoting a site to increase the number of backlinks, or inbound links , is another SEO tactic.
SEO is essentially a highly optimized way to advertise services online. This organic or "algorithmic" approach to online marketing takes away the "chance" of advertising, and instead focuses efforts on targeted customers. By performing SEO procedures, a SEO companies in Mumbai can increase its website visibility in major search engines like Google, Yahoo and MSN.
In the old school of marketing, we were taught that advertising to a general audience was a necessary risk to take. SEO advertising or organic online marketing eliminates that risk and instead targets customers already inclined to buy products or services offered by the SEO Companies in Mumbai. This certainly doesn't mean that general advertising avenues are unavailable.
Why is (SEO) so important?
Today, most people visit Google or another search engine to find what they are looking for. Most of us only look at the results on the first page of the search results. So, if your website gets on the first page of these search results, you can be sure to have a lot of visitors.
But, how does your website gets on the first page of the search results? Well, that's where "Search Engine Optimization Mumbai" becomes important. It's not enough to just write an article or page and wait for visitors. Unless you have a very popular blog or website, you will not get any visitors. So you'll have to optimize your blog (or website) and content to get higher in the search results.
Benefits of Search Engine Optimisation (SEO)
(SEO) means higher sales : The more people who come to your website, the more potential customers you attract. Search Engine Optimisation is the most effective way to drive more traffic, increase sales, and improve your visual appearance online. Ready to buy searchers can easily become buyers if your website is truly optimized to meet their needs when they are desperately looking for a solution. (SEO) is a proven marketing strategy if executed with the mix of quality web design, quality content and right presentation.
(SEO) beats your competition - Optimized websites are the fastest, easiest way to dissolve your competition. Fact: Web users rarely search through pages and pages of search engine listings to find your business. It's a race to the top of the listings, so who will get your potential clients' attention first? Be the victor with the benefits of SEO.
(SEO) increases brand visibility - The business which appears on the first page with the relevant keywords on Google get 24/7 free advertisement! People trust the search engine results. Therefore Search Engine Optimization Mumbai leads to the increased brand visibility for your website. When your business starts showing up for your business related keywords, more and more potential customers will be there to look for the services you are providing via your website. Think about that search on 'holiday deals'. The big holiday companies are all desperate to make it onto the first page of Google. The ones that appears on the first page benefit from incredible traffic and the one didn't make it need to buy PPC ads to be seen, which is expensive for such a competitive search query.
(SEO) creates measurable results - SEO is a measurable online marketing method. It is a problem for the businesses to judge the results of the multitude of a marketing effort. SEO are measurable even with the use of free analytical tools such as Google Analytics.
(SEO) improves visitor experience / accessibility & usability of the website - Websites easily available for search engines are also easily accessible for visitors. Designing a website for search is an exercise in designing a best practice website. A better optimized and designed website always attracts lots of visitors and of those visitors a lot of potential customers. Search engine crawlers notice errors in your code, so valid code is a must for SEO. And that makes for a more accessible website for Google's crawlers, and for people. As a full service SEO expert in London, we focus on web standards and accessibility.
(SEO) services are cost effective 3. - SEO is one of the most affordable and effective marketing strategies when you work with the right SEO consultants in Mumbai, India as compared to other forms of traditional or internet marketing. Businesses continue to get benefits of SEO even when they stop paying to SEO experts. Customers that come through organic SEO tends to stay longer than through other marketing methods. If the website is properly designed and optimized then it has a longer standings s compared to the Pay Per Click Advertising. At webzsol.com, we make sure you have the right SEO and web design package for your company.
Following factors that influence top search engine ranks :
Website and Web page Analysis
Search Engine Submissions
Keyword and Key-Phrase Analysis
Link Popularity Analysis
Competitor Website Analysis
Traffic Analysis
Directory Submissions
Forum Commenting
Article Submission